The nomination committee has put forth the following candidates for elections to be held at the 2023 AMEA In Service in Birmingham in January. Nominations from the floor will be accepted at the Friday general business meeting of ABA.
Candidates for President Elect
Keith Anderson, James Clemens High School
Keith Anderson is the Director of Bands at James Clemens High School in Madison, AL. After starting his teaching career in August of 2001 as the Assistant Band Director at Bob Jones High School, Keith was hired to begin the JCHS Band program as the school opened in the Fall of 2012. Since that time, the band program has grown to include marching band, competition marching band, three concert bands, percussion ensemble, jazz band, jazz combo, and two winter guards. JCHS ensembles have been selected to perform at the University of Alabama Honor Band, the Loyola Jazz Festival, the London New Year's Day Parade, and twice at the Alabama Music Educators Conference, with the Wind Ensemble performing in 2016 and the Percussion Ensemble in 2020.
Keith is the Fine Arts Department Lead at James Clemens and has served multiple times on faculty senate as well as school and system-wide planning committees. He served as the ABA District One chairman from 2013 to 2015 and has since been privileged to serve on various ABA committees as both member and chair. He is a certified adjudicator for the Alabama Music Performance Assessment and is regularly contracted as an adjudicator for both concert and marching assessments. He holds a bachelor's and master's degree in Music Education from the University of North Alabama and is a National Board Certified Teacher.
Gene Butler, Smiths Station High School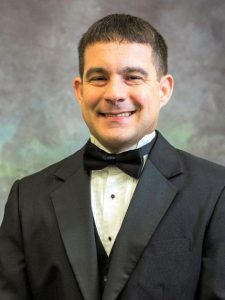 Give to the communities that have given so much to you. This is the idea that has driven
the nearly two-decade spanning career of Gene Butler. Currently serving as the Director
of Bands at his alma mater, Smiths Station High School, Gene believes that quality music
education can be, and should be, available to every child in Alabama.
The recipient of both Bachelors and Masters Degrees from Troy University, Gene is
currently pursuing his EdD in Curriculum and Leadership from Columbus State
University. While at Troy University, Gene proudly served as drum major for the
"Sound of the South" Marching Band and principal tuba of the Troy University
Symphony Band. The Troy University School of Music faculty selected Gene for the
2010 Outstanding Music Graduate Award, an honor that Gene still holds in high regard.
Prior to Smiths Station, Gene served the students at Trinity Presbyterian School in
Montgomery. During his tenure at Trinity, the band program grew from 39 students to
over 80 students. Marching and concert ensembles under the direction of Gene have
consistently received superior ratings at contests throughout the Southeastern United
States. Gene is proud to have been named the 2015 Outstanding Young Music Educator
of the Year for the state of Alabama by the Alabama Music Educators Association.
Gene has been the catalyst for commissioning projects, including a new work by David
Holsinger, premiering at the Smiths Station High School Symphonic Band performance
during the 2023 AMEA Professional Development Conference.
Gene serves the band community of Alabama through numerous organizations and
committees. Amongst these are the Alabama Bandmasters Association Music Selection
Committee, the Alabama Bandmasters Association Board of Directors as both Vice-
Chairman and Chairman for District VI, AMEA, and NAfME.
An active clinician and adjudicator across the Southeastern United States, Gene enjoys
helping students reach their musical goals everywhere he travels.
Gene and his wife, Karen, reside in Smiths Station, AL, with their children, Julie,
Rebecca, and James.
Jazz Chair Elect
Kelvin Benion, Clay Chalkville High School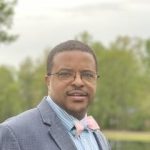 Kelvin Benion is a native of Birmingham, Alabama. He graduated from Huffman High School, under the direction of Clifford M. Winter, III. In high school he played the Tuba and was selected to perform in many honor bands including the Alabama All-State Blue and White bands. After high school Kelvin, chose to continue his education at South Carolina State University in Orangeburg, South Carolina where he was a member of the Marching Band,Wind Ensemble, and Jazz Ensemble and received Bachelor of Arts In Music Merchandising and Management. (1992)
While in college Kelvin started the jazz group "Tekneek". The group would later evolve and release two chart topping and award nominated albums, "Point Of View" (1998) and ("Joyride"). (2004)
Kelvin started his teaching career in 2010 @ W.J. Christian School (Birmingham City Schools) followed by being the asst. director @ Minor High School (Jefferson County Schools) and claiming Three National High Stepping Championships. He also directed one of two jazz very performing bands. After spending three years with Minor High School Kelvin started and directed the band program @ Mae Jemison High School (Huntsville City Schools) in Huntsville, Alabama for one year. Kelvin is now the current Band Director @ Clay Chalkville High School in Clay, Alabama (Jefferson County Schools)
In 2014 Kelvin released a solo project entitled "Got to Get It" with the title track featured "Eric Essix"
In 2020, Kelvin produced several songs for the FOX Soul network while also landing smooth jazz placements with the Perpetual Music Group.
Just recently Kelvin was selected to be the clinician to conduct the Alabama All State Middle School Jazz Band for 2021.
Kelvin has worked and performed with many great musicians, producers, and entertainers like: Ben Tankard, Henry Panion III, Phil Davis, Milton Davis, Mike
Phillips, Dennis Edwards, Me'lissa Morgan, David Peaston, Stevie Wonder, Ernie Watts, Jessy J, Kenny Lattimore, Eric Essix, and Kim Scott just to name a few.
Kelvin is married to Crishina Benion (22 years) with 3 children, Jeseca Spencer (Step Daughter), Kennedy and Kaleb. Kelvin Benion a member of Kappa Kappa Psi National Honorary Band Fraternity.
Brett Johnson, Marbury High School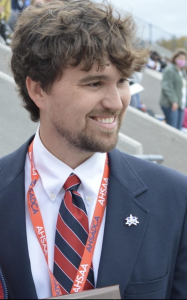 Brett Johnson is currently in his 15th year of education where he serves as Band and Choir Director at Marbury High School in Deatsville, Alabama. A native of Prattville, AL and 2004 Alumni of Prattville High School. Brett earned his bachelor's degree in Music Education from Troy University and is currently pursuing his Master's degree in Music Education at Eastern Washington University.
While teaching Mr. Johnson has had ensembles perform in Washington DC, New York City, Atlanta, and several other places in the United States. While at Marbury High School, his ensembles have performed on national television during Atlanta Braves baseball games, Atlanta Hawks basketball games, and NASCAR races. In 2020, the Alabama High School Athletic Association named Mr. Johnson, the band Director of the Alabama High School All-Star Marching Band that performed during that years Alabama High School All-Star football game.
Brett's professional organizations include Alabama Music Educators Association, Georgia Music Educators Association, National Association for Music Education, National Education Association, Alabama Education Association, Georgia Association of Educators, and Alpha Tau Omega. As well as principal tuba player for the Montgomery Symphony Orchestra.
Brett is married to Christie who is also a teacher in Autauga County. They have 4 children Lachlan (10 years old), Holland (7 years old), Rylan (4years old), and Maelan (1).
Recording Secretary Elect
Heather Henson, American Christian Academy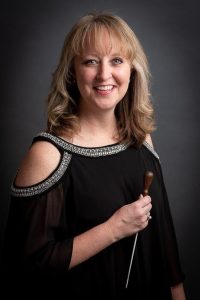 Heather M. Henson is in her fifteenth year as Band and Choir Director at American Christian Academy in Tuscaloosa. She directs the Symphonic Band, Patriot Marching Band, Royal Bluezz Jazz Band, Intermediate Band, Beginning Band, and High School Chorus. She also teaches Music Theory and Middle School Speech & Drama, and is the advisor for the school's Tri-M Music Honor Society chapter. Ms. Henson graduated from Samford University and began her teaching career in 1995 as the Assistant Director of Bands and Choral Director at Oak Grove HS and Alliance Elementary, and then as Director of Bands at Pittman Middle School. She was the visual coordinator, drill writer, clarinet instructor, and color guard & winter guard director for the Brookwood HS band program for twelve years.
Ms. Henson has served the Alabama Bandmasters Association for 10 years as an All-State Band host, and is currently the Host Coordinator. Her primary instrument is the clarinet. Professional memberships include the National Association for Music Education, National Band Association, Alabama Bandmasters Association, Alabama Vocal Association, Women Band Directors International, and the International Clarinet Association. Ms. Henson is a member of Riverwood Presbyterian Church in Tuscaloosa and has three adult children.
Will Mixon, Gulf Shores High School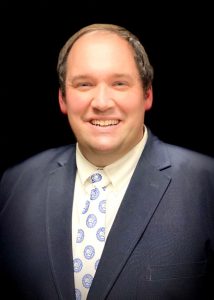 William Mixon has been teaching for 13 years and currently serves as Band Director at Gulf Shores High School. During his time, the marching and concert bands have consistently performed at a high level receiving regular superior ratings. During the school day, William teaches Concert Band, Steel Drums, and Color Guard.
Outside of the classroom, William has served as Vice-Chair and Chair for the Alabama Bandmasters Association (ABA) District VII as well as Recording Secretary for ABA's Executive Board. Additionally, he was appointed as Fine Arts Coordinator for the Gulf Shores City School System.
In addition to teaching, William serves as organist for Gulf Shores United Methodist Church and enjoys playing piano and trumpet for local events. William received a Bachelor of Music Education from Louisiana State University where he studied music education with James Byo, conducting with Linda Moorhouse and Frank Wickes, and trumpet with Brian McWhorter. He received a Master of Education from Troy University under the mentorship of Mark Walker.
His professional affiliations include the National Association for Music Education, Alabama Music Educators Association, Alabama Band Masters Association, and Phi Mu Alpha Sinfonia. William resides in Loxley with his wife, Laura, and their two children, Liam (9) and Ansley (4).
In addition to a career in music education, William is an avid woodworker and enjoys building furniture inspired by the shaker, arts and craft, and contemporary style periods.