Red Band
Frank Ticheli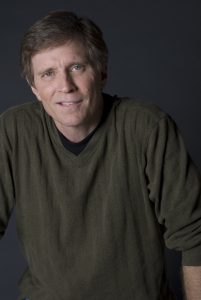 Frank Ticheli's music has been described as being "optimistic and thoughtful" (Los Angeles Times), "lean and muscular" (New York Times), "brilliantly effective" (Miami Herald) and "powerful, deeply felt crafted with impressive flair and an ear for striking instrumental colors" (South Florida Sun-Sentinel).  Ticheli (b. 1958) joined the faculty of the University of Southern California's Thornton School of Music in 1991, where he is Professor of Composition.  From 1991 to 1998, Ticheli was Composer in Residence of the Pacific Symphony.
Frank Ticheli's orchestral works have received considerable recognition in the U.S. and Europe. Orchestral performances have come from the Philadelphia Orchestra, Atlanta Symphony, Detroit Symphony, Dallas Symphony, American Composers Orchestra, the radio orchestras of Stuttgart, Frankfurt, Saarbruecken, and Austria, and the orchestras of Austin, Bridgeport, Charlotte, Colorado, Haddonfield, Harrisburg, Hong Kong, Jacksonville, Lansing, Long Island, Louisville, Lubbock, Memphis, Nashville, Omaha, Phoenix, Portland, Richmond, San Antonio, San Jose, Wichita Falls, and others. His clarinet concerto was recently recorded by the Nashville Symphony on the Naxos label with soloist James Zimmermann.
Ticheli is well known for his works for concert band, many of which have become standards in the repertoire. In addition to composing, he has appeared as guest conductor of his music at Carnegie Hall, at many American universities and music festivals, and in cities throughout the world, including Schladming (Austria), Beijing and Shanghai, London and Manchester, Singapore, Rome, Sydney, and numerous cities in Japan.
Frank Ticheli is the recipient of a 2012 "Arts and Letters Award" from the American Academy of Arts and Letters, his third award from that prestigious organization. His Symphony No. 2 was named winner of the 2006 NBA/William D. Revelli Memorial Band Composition Contest. Other awards include the Walter Beeler Memorial Prize and First Prize awards in the Texas Sesquicentennial Orchestral Composition Competition, Britten-on-the-Bay Choral Composition Contest, and Virginia CBDNA Symposium for New Band Music.
In 2018, Ticheli received the University of Michigan Alumni Society's highest honor, the Hall of Fame Award, in recognition for his career as a composer. He was also awarded national honorary membership to Phi Mu Alpha Sinfonia, "bestowed to individuals who have significantly contributed to the cause of music in America," and the A. Austin Harding Award by the American School Band Directors Association, "given to individuals who have made exceptional contributions to the school band movement in America." At USC, he has received the Virginia Ramo Award for excellence in teaching, and the Dean's Award for Professional Achievement.
Frank Ticheli received his doctoral and masters degrees in composition from The University of Michigan. His works are published by Manhattan Beach, Southern, Hinshaw, and Encore Music, and are recorded on the labels of Albany, Chandos, Clarion, Equilibrium, Klavier, Koch International, Mark, Naxos, and Reference.
White Band
Dr. Rebecca Phillips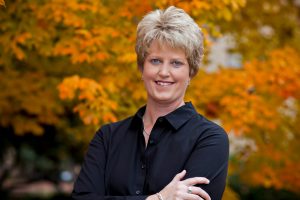 Dr. Rebecca Phillips is Professor of Music and Director of Bands at Colorado State University where she conducts the CSU Wind Symphony and guides all aspects of the band and graduate wind conducting programs. Prior to this appointment, she served as the Associate Director of Bands and Director of Athletic Bands at the University of South Carolina where she was responsible for directing the Symphonic Winds Concert Band, "The Mighty Sound of the Southeast" Carolina Marching Band, "Concocktion" Pep Bands, teaching undergraduate instrumental conducting, and directing the Carolina Summer Drum Major Clinic.
Dr. Phillips has served as a guest-conductor, clinician, and performer throughout North America, Europe, and Asia. Most recently, she was invited to conduct the Department of Defense All-Europe High School Honor Band (Frankfurt, Germany). Other guest invitations include conducting the wind band and symphony orchestra for the "2019 Prague Multicultural Music Project" and conducting members of the Prague National Symphony at the inaugural "2017 American Spring Festival" (Prague, Czech Republic.) In 2018, she conducted members of the Des Moines Symphony in a chamber concert for the Iowa Bandmasters Association annual conference. Dr. Phillips regularly conducts collegiate honor bands, all-state bands, and festival bands across the United States, Canada, and Europe and she has been a rehearsal clinician at the Midwest Clinic: An International Band and Orchestra Conference. Ensembles under her direction have been featured at the 2020 Colorado Music Educators Association Convention, the 2019 American Bandmasters Association National Convention, the 2012 College Band Director's National Association Southern Division Conference, the 2010 Society of Composers International Conference, and the 2008 North American Saxophone Alliance International Convention.
Dr. Phillips believes in treasuring the traditional wind music of the past as well as promoting cutting edge works of today's finest composers. She has commissioned and conducted world and consortium premieres of works by several leading composers, including William Bolcom, James David, John Mackey, John Fitz Rogers, Adam Silverman, Frank Ticheli, and Dana Wilson to name a few. Her conducting performances of David del Tredici's In Wartime and John Mackey's Redline Tango are both featured on the nationally distributed Louisiana State University Wind Ensemble compact disc project and the world premiere of John Fitz Rogers Narragansett is featured on the Compact Disc And I Await, featuring Dr. Phillips as guest conductor of the University of South Carolina Wind Ensemble.
As a trombonist, Dr. Phillips' performances can be found on several internationally distributed recordings. She has performed with the National Symphony Orchestra, U.S. Army Band (Pershing's Own), the Tallahassee Symphony, and the Tampa Bay Opera Orchestra. She has also performed internationally in England, Mexico, the Caribbean, Russia, and Sweden, and has toured as a trombonist with Johnny Mathis and Barry Manilow.
A native of the Washington, D.C. area, Dr. Phillips earned her Bachelor's degree in Music Education from The Florida State University, Master of Music degrees in conducting and trombone performance from the University of South Florida, and a Doctorate of Musical Arts in conducting at Louisiana State University. She served as a secondary school band director for seven years in Florida, including Director of Bands at Howard W. Blake Performing Arts High School in Tampa, Florida where she developed an award-winning concert band program. Currently, she is the President of the National Band Association, chair of the Music Education Committee for the College Band Directors National Association, and co-chair of the American Bandmasters Association Commissioning Committee.
Blue Band
Dr. Ben Lorenzo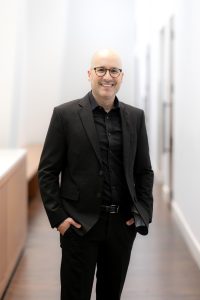 Benjamin Lorenzo is an associate professor of music and the Director of Bands at Kent State University's Glauser School of Music where he conducts the Wind Ensemble, teaches conducting, and provides leadership for university bands. Previously, he served as Associate Director of Bands and Director of Athletic Bands at the University of Arkansas where he led the Razorback Marching Band and Wind Symphony. Before this appointment, Lorenzo held positions at Oklahoma State and Texas Tech University. His teaching experience also includes high schools in Florida and Texas. 
Passionate about wind bands in Latin America, Dr. Lorenzo has worked with musicians in Mexico, Panama, Peru, Colombia, and the Dominican Republic. He has also conducted bands in Kuala Lumpur and was a clinician for the Malaysian Band Directors Association Conducting Workshop. Additional experience abroad includes guest conducting the World Youth Wind Orchestra Project (WYWOP) in Schladming, Austria. Lorenzo remains active as an adjudicator, conductor, and clinician throughout the United States and has conducted professional ensembles such as the West Point Academy Band.
As an orchestrator, Lorenzo's transcription of John Corigliano's The Red Violin Chaconne, published by Boosey & Hawkes, received the composer's praise and numerous performances from university and professional ensembles to date. In addition, he has arranged works for marching bands, wind ensembles, and the Dallas Winds. His writings on music are found in the Journal of Band Research, the WASBE Journal, and he has contributed to several volumes of the Teaching Music through Performance in Band series. He has presented sessions at the Texas Bandmasters Association, Midwest Band and Orchestra Clinic, College Band Directors National Association conferences, and several state music education conventions.
Committed to amplifying diverse voices, Lorenzo serves on the advisory board of the Music Education Alliance, which sponsors the William P. Foster project, an initiative of CBDNA, Music For All, and the National Band Association, focused on supporting bands in historically underserved and under-resourced communities. Additionally, he chairs the Diversity Committee for CBDNA and is a member of Phi Beta Mu International Bandmasters Fraternity, Tau Beta Sigma National Honorary Band Service Sorority, and Kappa Kappa Psi National Honorary Band Fraternity.
Lorenzo holds the Doctor of Musical Arts and Master of Music degrees in Wind Conducting from The University of Texas at Austin under the tutelage of Jerry Junkin. He received a Bachelor of Music degree in Trombone Performance from Florida International University, studying with Mark Hetzler. A native of Havana, Cuba, he is a proud alumnus of Miami-Dade County Public Schools, where he began his teaching career.
Middle School Red Band
Dr. Arris Golden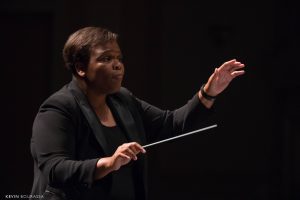 Dr. Arris Golden is the Assistant Director of Bands and Associate Director of the Spartan Marching Band at Michigan State University. In this capacity,  Dr. Golden teaches courses in conducting, marching band techniques, conducts the Spartan Youth Wind Symphony, is coordinator of the MSU Performing Arts Camps, and assists with all aspects of the athletic band program. Before joining the faculty at Michigan State University, Dr. Golden was a member of the conducting faculty at the University of North Carolina at Chapel Hill, where she served as the Assistant Director of University Bands.
Prior to her collegiate appointments, Dr. Golden had a distinguished 18-year teaching career in the public schools of North Carolina. In her last public school assignment, Dr. Golden conducted the premiere of four commissioned works that have become standards in the middle school band repertoire: "Kitsune: The Fox Spirits," by Brian Balmages (2009), "The Machine Awakes" for young band and electronics by Steven Bryant (2012), "Freight Train," by Pierre LaPlante (2013), and "The Cave Your Fear" by Michael Markowski (2014).
Dr. Golden maintains an active schedule with engagements throughout the United States and internationally as a guest conductor, clinician, and adjudicator. Dr. Golden has also shared presentations at the Midwest Band and Orchestra Clinic, Michigan Music Conference, the North Carolina Music Educators Conference, and the Virginia Music Educators Conference based in her research interests: undergraduate music education preparation, conductor decision-making, repertoire selection and programming, and the student teaching and mentorship experience. Dr. Golden has worked with a number of notable composers in the preparation and performance of their works for the wind band medium. Recent and future artistic collaborations include Brian Balmages, David Biedenbender, Tyler S. Grant, Peter Meechan, Aaron Perinne, Alex Shapiro, Erika Svanoe, and Omar Thomas. Dr. Golden's professional affiliations include the College Band Directors National Association and the National Band Association; she also serves on Board of Directors of National Band Association and as a Co-Chairperson of the National Band Association's IDEA Committee.
Dr. Golden holds degrees from the University of North Carolina at Chapel Hill and the University of North Carolina at Greensboro. She completed the Doctor of Musical Arts in wind conducting from Michigan State University as a 2014 recipient of a Michigan State University Distinguished Fellowship.
Middle School White Band
Jack Wilds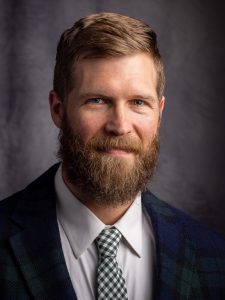 Jack Wilds is a composer and educator whose works have brought him into collaboration with musicians aged 5-95. Ranging from children's choirs to collegiate wind ensembles and professional chamber groups, Jack's music draws on visual art, philosophical and religious texts, poetry, and absolute musical influences to create vibrant works that meet performers where they are while inspiring authentic, artistic music making.
His chamber music has been performed by the Attacca Quartet, the University of Texas New Music Ensemble, the Austin Saxophone Ensemble, and members of the New York Philharmonic and the Atlanta Symphony. His works have also been featured at international festivals and composition workshops including the International Trombone Festival, the Slider Asia Clinic in Hong Kong, the American Trombone Workshop, the International Horn Symposium, New Music on the Bayou and The Wyoming Festival.
A former public school band director, Jack's works for wind ensemble and choir include over 40 publications for developing musicians. His works for wind band are regularly featured on required repertoire lists for festivals on multiple continents and have been performed at the Midwest Clinic and at educator conferences across the United States.
Jack is a lecturer at Texas State University, where he teaches composition, music theory, ear training, and music technology courses. He is also the Co-Director of Music at First Presbyterian Church in San Marcos, a position he has held for 13 years and is privileged to share with his wife Noel. He is an active clinician and adjudicator with regular engagements countrywide.
He has studied composition with Michael Ippolito at Texas State, and Chris Trapani and Donald Grantham at the University of Texas.